Please click here to visit our web site especially for franchise marketing.
---
Looking for an advertising agency that "gets" franchising?

It's time for a Third Person perspective.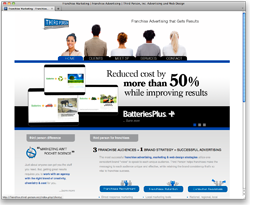 For Batteries Plus, we reduced advertising costs by more than 50% while improving results.
For Valpak, we increased small business advertising lead generation by 1,745%.
For Harley Davidson's Dealer-to-Dealer Network, we reached a six-month sales goal in just 3 days.
What can we do to help you?
---