Valpak
There's something in it for you.™
2002 CONSUMER CAMPAIGN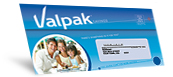 "It's a coupon mailer. What's so great about that?" Valpak, a division of Cox Target Media in Tampa, Florida, had heard that one too many times, and, since nothing was further from the truth, asked Third Person for help. "Our challenge was to upscale the Valpak image in the mind of consumers and potential advertisers," recalls Michael Caughill, Principal at Third Person.
"Valpak's awareness is up to 90% which is the highest it has ever been..."
CLICK HERE to view the Campaign
2008 BUSINESS TO BUSINESS CAMPAIGN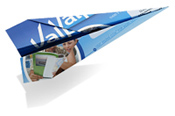 "This is the first time we've developed a national business-to-business campaign," says Melissa Fisher, Senior Vice President of Marketing and Communication at Valpak. "We wanted to increase general awareness among businesses and ultimately get our phone to ring."
"...Sales call volume increased by 1,745%! (The phone) is literally ringing off the hook..."
CLICK HERE to view the Campaign.